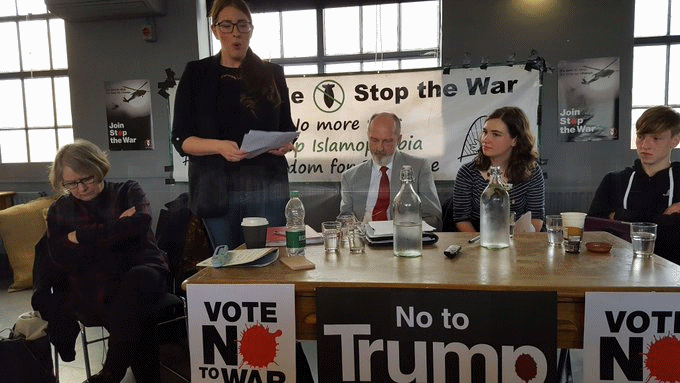 Speakers: Laura Pidcock MP, Dave Webb CND, Charlotte Austin YL,
Declan Mulholland YL and Lindsey German speaking at the meeting
On Saturday February 3, Newcastle Stop the War hosted a public Meeting in Newcastle St Georges Social Centre as part of the "We Need an Anti-War Government tour organised by Stop the War. Speakers Laura Pidcock MP for North West Durham, Dave Webb CND national chair, Charlotte Austin Young Labour, Declan Mulholland Young Labour and Lindsey German Stop the War convener addressed a packed meeting of 60 people which was then followed by lively contributions and questions from the people present. The meeting was chaired by Newcastle Stop the War convener Roger Nettleship. The meeting called on people to join stop the war and build the anti-war movement to fight for an anti-war government in Britain as our contribution to ending the crimes of the Anglo-US powers abroad and defending the rights of all in Britain. With permission of the speakers the recordings of their contributions are below.

Roger Nettleship - Opening remarks
Laura Pidcock MP
Dave Webb CND national chair
Charlotte Austin Young Labour
Declan Mulholland Young Labour
Lindsey German Stop the War Convenor