Next - Newcastle Stop the War Planning Meeting
Thursday 6pm August 12 2021
If you would like to get involved.
Contact
office@northeaststopwar.org.uk
---
Stop the War's 20th Anniversary Event
On Saturday 18 September we will be hosting an exciting political and cultural event to mark the 20th anniversary of the founding of Stop the War. We have a fantastic line-up of key figures from the movement, as well as musicians, artists and poets and a new short film by Amir Amirani, director of We Are Many.

Join us to hear the how Stop the War began and grew into the largest anti-war campaign in the UK, and to discuss where the future lies for the movement as the struggle against war and imperialism continues. For anyone involved in the anti-war movement over the last 20 years this is a not to be missed event. Book your ticket now using the button below.
---
Join Stop the War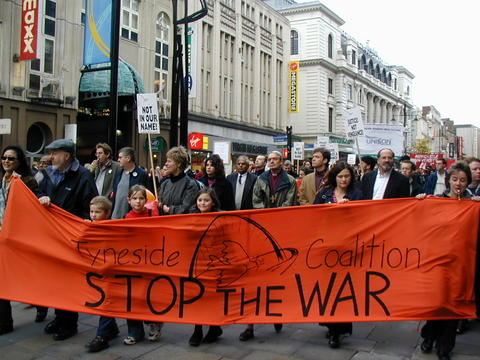 Newcastle demonstration against the invasion of Afghanistan, October 2001
You can join and/ or donate to the Stop the War
Coalition: Here (National Website)
To keep informed or Join in the work here in the North East