NATIONAL DEMONSTRATION FOR PALESTINE
SATURDAY 11th MAY, LONDON
Organised by: Palestine Solidarity Campaign, Stop the War Coalition, Palestinian Forum in Britain, Friends of Al- Aqsa, Muslim Association of Britain
SUPPORTED BY: Momentum, Unite the Union, PCS, UNISON, RMT, ASLEF, UCU, NEU, TSSA, Amos Trust, CND, ICAHDUK.

Newcastle/Durham coach details:
The coach will leave Newcastle central station at 6am and also pick up in Durham outside the TA Centre at Gilesgate roundabout approx. 6:20am, returning to Newcastle at around 11pm.
---
Next Committee Meeting to be announced for May
---
Join Stop the War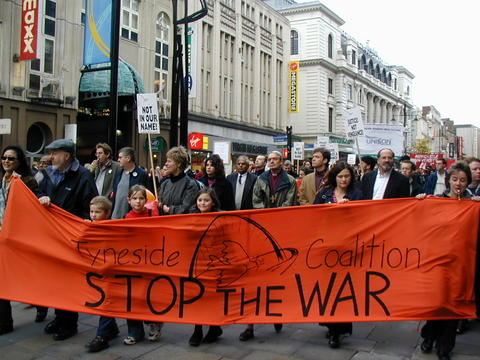 Newcastle demonstration against the invasion of Afghanistan, October 2001
You can join and/ or donate to the Stop the War
Coalition: Here (National Website)
To keep informed or Join in the work here in the North East